5 Things to Consider When Choosing Infill for Artificial Grass
When you decide to install artificial grass in Toronto, you should take the time to evaluate what type of infill you want to use during your artificial grass installation. Infill is a small fill that is laid on top of synthetic turf at the end of the installation. It is integral to artificial turf as it is responsible for holding the shape of your turf, extending longevity, maintaining stability, and adding dimension. Infill affects the performance of your lawn, so it's crucial to consider all the variables before selecting one for your backyard.
Here are 5 things you should consider before picking the infill for your artificial grass installation.
Material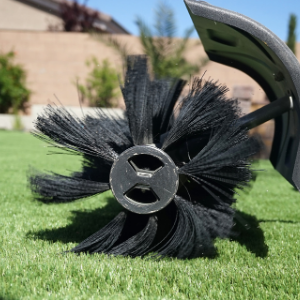 There are a few different materials used for infill. The most commonly used in artificial grass installation is sand, but you usually can also find rubber and cork. The material of your infill can affect the durability and longevity of your turf. Heavier or more densely packed infill weighs down your turf so it can remain seamless for longer. Sand is a good material because it is shock absorbent, durable, and bacteria resistant.
Drainage
The infill you choose supports the backing of your artificial lawn. When you select an infill for your artificial grass, consider how it facilitates or inhibits drainage. If you select an infill that prevents drainage, water will likely back up and pool in your lawn, attracting insects, bacteria and lawn.
Cleaning
If your artificial lawn is being used by pets or has been exposed to organic waste you should opt for an infill that deters bacteria. Envirofill is designed with antimicrobial technology, microban, to prevent the growth of mold and unwanted odours effectively. A bacteria resistant infill that drains well reduces the already minimal amount of maintenance your artificial grass would require.
UV Rays
Exposure to the sun's harmful UV rays can cause damage to artificial turf that isn't designed to be protected. UV Rays can cause synthetic materials to fade and heat up if they are not adequately protected. At Echoing Green, our artificial turf is designed and produced by premium European manufacturers designed to prevent fading and bleeding due to the sun's UV rays.
Infill can further protect artificial grass from the adverse impact of UV rays by stopping the sun's rays from reaching the turf's backing. Envirofill has shown to be effective and keeps lawns cool and protected from the sun more effectively than other infill choices.
Cost
As infills become more beneficial, the price typically increases accordingly. It's helpful to note that overall, artificial grass installation is more cost-effective than natural lawns because of its significantly reduced care requirements. It's also beneficial to opt for high-quality infills like Envirofill because they go the distance and keep your artificial grass lawn lasting longer. At Echoing Green, we offer affordable pricing and premium products, so our customers don't have to sacrifice their budget for quality.
Plan Your Toronto Artificial Grass Installation
From the point of artificial grass installation, throughout the lifespan of your artificial lawn, good infill supports the finish of your yard by helping to maintain its shape, voluminosity, and lushness over time. So, if you're still not sure, ask your artificial grass providers what's the best option for you.
Contact Echoing Green today to find out how you can install premium artificial grass this summer!