5 Things to Consider Before Buying Artificial Grass for Dogs
Artificial grass for dogs has become a saving grace for pet owners in Toronto struggling with natural grass. There are many benefits to choosing pet turf, mainly the convenience, low care requirements, and versatility. While it's accepted that artificial grass for dogs is an excellent choice for any four-legged friend, each type of turf vary, and every dog is a little different than the next. So, if you want to treat your dog with the comfort of high-quality pet turf from Echoing Green, here are 5 things you should consider first.
How Big is Your Dog?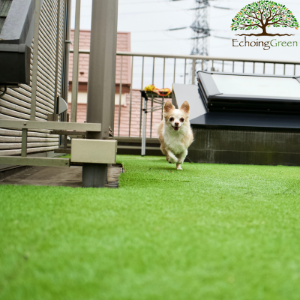 When installing artificial grass for dogs, you should get enough turf so your pet can fit entirely on the turf. If you have multiple dogs, you should have enough pet turf, whenever possible, to accommodate more than one dog. Ensuring adequate space for all your furry loved ones helps to make synthetic turf more comfortable, however At Echoing Green, our artificial grass is manufactured to replicate both the look and feel of natural grass, so dogs (or even cats!), won't notice a difference.
How Will Your Dog Use Artificial Grass?
While dogs have some say in dictating how they use pet turf, its functionality comes down to what you want, as the owner. Artificial grass for dogs can be used for play and fun or as a functional potty pad. Installation, maintenance, and choice of synthetic turf will come down to the turf's primary use. Either way, artificial grass maintenance is minimal across all functionalities, minimizing the time, energy, and cost investment for pet owners.
Where Will You Install Artificial Grass?
Generally, artificial grass can be put indoors or outdoors easily. So, where pet owners choose to install artificial turf depends largely on how it will be used and the home itself. Those living in condominiums or multi-family homes might find it more convenient to install pet turf indoors. One of the most significant advantages of artificial grass is that it can be installed on balconies relatively efficiently. When used as a doggy bathroom, this helps owners avoid frequent trips downstairs. If you are leaning towards installing synthetic turf indoors, the best spot is one with a hard surface like concrete or tile because soft fabric like carpet will likely retain moisture and odours, making it more difficult to clean.
Is Artificial Grass Safe for Dogs?
At Echoing Green, our synthetic turf is non-toxic. There are no harsh chemicals that threaten the safety or health of pets or people. Unlike natural grass, artificial grass for dogs requires no dangerous treatments such as fertilizers, pesticides, or herbicides for maintenance. Installed with antimicrobial infill, artificial turf is designed to prevent bacteria from multiplying and causing illness. And because it's not organic and requires zero topsoil, pet turf from Echoing Green naturally resists pests harmful to dogs like fleas and ticks.
How Long Will Pet Turf Last?
At Echoing Green, our artificial turf is designed and manufactured exclusively in Europe, but it is equipped to resist the fluctuations of Canadian weather. Artificial grass in Toronto is designed to withstand strong winds in high-rise buildings in addition to snow and ice. Even after lots of play, pet turf holds its shape. Our pet turf does not overheat during prolonged exposure to the sun and heat due to non-toxic UV treatments, which also makes the synthetic grass colorfast.
If you're not sure what best suits the needs of your pet or your space, the specialists at Echoing Green are always readily available to guide you, from selecting your pet turf to high-quality installation.
Contact Echoing Green or shop online to get started today.