5 Reasons Pet Owners Choose Pet Turf
Artificial grass for dogs is becoming a staple in the homes of Toronto pet owners. Most pets love to roll around in the grass, but sometimes natural grass isn't the best option for pet owners. Live lawns are notoriously high maintenance in combination with your four-legged family member, so pet turf is often a more manageable alternative. At Echoing Green, we supply premium synthetic turf that your pets will love. If you're on the fence about artificial grass for your dog, read on to learn why pet owners continue to choose it.
Turf For Your Pets Can Be Installed Anywhere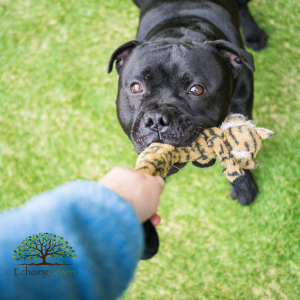 The most convenient benefit of artificial grass for pet owners is its flexible installation option. Pet turf is not limited to being put outdoors alone. The product is effective both indoors and outdoors as it can be installed on a variety of surfaces in addition to dirt. This inherent versatility of synthetic grass enables pet owners to give their dogs and cats their own space even during cold winters or on balconies of high-rise buildings.
Mud Free Artificial Grass for Your Home
Live grass is planted with topsoil, which can present frustration during wet weather when the soil turns to mud, especially when dogs start to dig and play, tracking muddy paws into their home. With the introduction of artificial residential turf, pets are unable to dig up lawns and leave muddy paw prints inside even after rainstorms or the city's notoriously heavy snowfall because there is no soil necessary for installation and water drains with incredible efficiency.
Manufactured and Installed Without Non-Toxic Chemicals
Pets are part of the family, so it makes sense that we want to make sure that we're giving them healthy options in all areas of their lives. This can be applied to their grass too. To keep natural lawns lush, pristine, and green, homeowners typically turn to fertilizers, pesticides, and herbicides often filled with harsh chemicals and metals. In the case of direct skin contact or ingestion, any of these products can cause harmful health problems, from allergic reactions to severe illness. On the other hand, artificial grass is manufactured and installed free of toxic chemicals, making it safe for your pets to play.
Temperature Control For Comfort
If you plan to install artificial grass for dogs outside, you don't have to worry about it overheating in the heat of the summer. Some surfaces like pavement and stones can heat up quickly when exposed to the sun for extended periods. This can cause paws to burn and blister when dogs unknowingly step on them. To eliminate this risk, turf from Echoing Green is UV protected to prevent the surface from becoming too hot. This UV protectant makes pet turf a smart investment for every season.
Bacteria and Odour Detering
Often artificial grass for dogs is used for pups to go potty and do their business. Many pet owners worry about how artificial turf will fare with odours and bacteria. Artificial grass from Echoing Green is engineered to drain water effectively, making washing turf easy and fast. In addition to efficient cleaning, high-quality infill leveraged in the Echoing Green's installation is equipped with bacteria-resistant antimicrobial technology.
Pet turf from Echoing Green is a great choice for dogs, cats, and pet owners alike. Offering the sensation of natural grass, the convenience and functionality of artificial grass from Echoing Green is unmatched.
Contact us today to book your installation or get an instant estimate online right away!