5 Indicators of Long-Lasting Artificial Grass in Toronto
Homeowners looking for artificial grass installation have many turf options to choose from at their local hardware store or landscaping supply stores. Despite an array of options, the best artificial grass in Toronto for outdoor applications are durable and resilient. When shopping for turf online or in-store, you should prioritize quality and durability in your search. Most high-quality artificial grass in Toronto will last upwards of 20 years. At Echoing Green, we understand the importance of longevity, so we supply premium European artificial grass in Toronto and across Canada.
If you're planning on outdoor artificial grass installation, use these tips to assess the longevity of your turf.
Where is Artificial Grass in Toronto Made?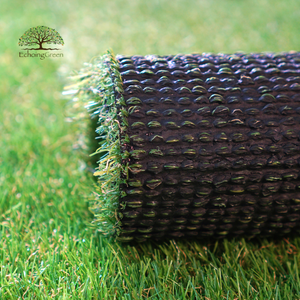 Compared to European grasses, American-made artificial turf are built to different standards. European manufacturers design and produce artificial grass following strict standards that enhance the long-term performance of the turf. At Echoing Green, we supply European grasses equipped with carefully engineered blades of synthetic fibres that bend to replicate the movement and look of natural grass while resisting wear and tear from foot traffic and heavy use.
Is Your Turf Equipped for the Sun?
Depending on your property and where you install artificial grass in Toronto, exposure to the sun can be extensive, especially in the city's summer months, where the UV index is higher. If the grasses are not well equipped, the UV rays will quickly degrade the turf following artificial grass installation, affecting its color, comfort, and lifespan. However, our turf is UV protected using a non-toxic treatment. This UV protection keeps the vibrant green colours intact year after year while also helping to regulate the temperature of the turf to ensure longevity.
What Kind of Backing is Used?
There are two main types of artificial turf backings on the market: rubber or polyurethane. Rubber backings have been losing favour compared to advanced polyurethane backings, which are stronger, more temperature resistant, and more flexible. A more porous backing, offered by polyurethane, enhances drainage by facilitating the flow of water more effectively through the turf into the ground after rainfall and rinses, stopping backups and pooling of water that would otherwise attract bacteria and allergens.
How Does Your Turf Handle Temperature Fluctuations?
When it comes to artificial grass in Toronto, the longevity of artificial grass installation depends heavily on how turf fares in the varying weather conditions offered by the local climate, especially the fluctuating temperatures from summer to winter. Echoing Green is an excellent choice for Toronto properties, as its advanced backing withstands the freeze-thaw cycle of the ever-changing Canadian seasons.
Who Did the Artificial Grass Installation?
Expert artificial grass installation is key to preserving your landscaping turf. Expert installation prevents wear and tear, bubbling in the middle, or lifting at the edges by ensuring every piece of turf is securely fastened to the ground below. To maximize artificial grass performance in Toronto, we recommend professional installation. You can visit our online store for all the artificial grass installation tools or schedule an installation with the Echoing Green team.
Contact us today to learn more about the advantages of installing our European turf.