5 Elements to Include in Your Backyard Putting Green Design
Building and designing a backyard putting green with artificial grass is different from artificial grass in Toronto. In many ways artificial grass installation is better than natural turf, because installation is easier and there are more design options. Where with a natural grass putting green you would focus on maintenance and lawn care for your backyard putting green, artificial grass leaves you opportunity to perfect the play and design of your golf green for the most personalization possible.
At Echoing Green, we provide luxury putting green turf as well as design and installation services, so you can build a backyard green that you love.
Here are four of our favourite design elements to factor into your artificial grass golf green.
The Rough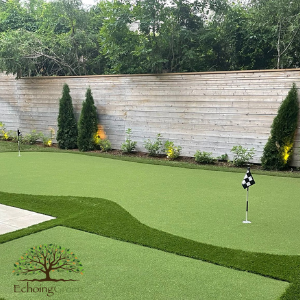 While no one wants their ball to roll into the rough, every golfer knows that sometimes it's inevitable. The real skill is effectively getting your ball back onto the green and setting up a good putt. Some artificial grass designers will leave the rough (the slightly longer grass around the green) out of your backyard putting green design, even though it is a vital element of the game. When choosing the layout of your putting green with Echoing Green, we can help you incorporate the rough strategically.
Tee Boxes
Even though most backyards can't fit a fairway, they can usually comfortably include a tee box. A tee box will lend itself to a more authentic golf experience while also giving you and your fellow golf-loving friends a good place to start off from. Depending on the position and distance of your putting green, you will be able to practice with an iron or play your wedge. Starting off your putting practice from a tee box will also leave your ball in different positions throughout the green each time, strengthening your short game from various areas of the green.
Stimp Speed
Stimp speed is a rate that indicates a green's ball speed. Some of the fastest golf greens, like around the world, have a stimp rate higher than 11. Augusta National for example usually ranges between 14 and 15. While this is typically too high for a backyard putting green, depending on your skill level and desired skill level, you may want to adjust the speed of your green. A couple factors contribute to this element during design and artificial grass installation, including firmness of the green, smoothness, uniformity, turf density, and design. For a fast rolling green, Echoing Green uses short and dense artificial grass that allows the ball to move quickly across the surface with minimal drag.
Cup/Hole Location
Naturally, a golfer will grow accustomed to the dips, bends, and hole locations of their own backyard putting green. So, to keep things interesting you can include multiple hole locations during artificial grass installation. More than one hole location will allow you to properly practice reading greens and controlling your putt, so you can hone in your skill and excel on any green. When choosing hole locations, strategically pick a varying range difficulty so your golf green always keeps you on your toes.
Designing Your Backyard Putting Green
Ready to start designing your backyard putting green? Echoing Green will provide you with high-quality turf so you can install a low-maintenance, weather-resistant putting green in the comfort of your own backyard.
Bring the game you love home with Echoing Green.