5 Care Tips for Indoor Playground Turf
When it comes to kids and playtime, making a mess is part of the process. Playtime messes are hard to avoid, but a play area made from indoor playground turf is an easy way to streamline cleanup. For homeowners looking to install artificial grass in Toronto, Echoing Green installs high-quality, child-friendly flooring for various applications. Installing indoor playground turf is a viable alternative floor covering, with countless benefits and an easy-to-maintain surface. At Echoing Green, our artificial turfs are high-performing and long-lasting, offering many years of playtime for kids of all ages. With a satisfactory return on investment, artificial turf is a very cost-effective flooring alternative.
The Benefits of Artificial Grass in Toronto For Play Areas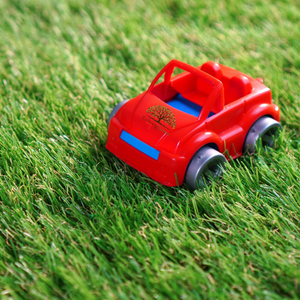 Homeowners discover many benefits when installing artificial grass in Toronto for an indoor children's playground. Importantly, this is a shock-absorbent, non-toxic surface that is safe for kids and pets alike. It's totally customizable when installed and provides a super clean surface resistant to mold, mildew, and bacteria. More than that, there is very little maintenance required to keep the flooring in good shape. Parents who are keen on installing indoor artificial grass in Toronto benefit most from a high-quality product.
Tips For Keeping Indoor Playground Turf in Good Shape
Artificial grass, both indoor and out, is a great alternative when considering kid-centric flooring. It's a safe surface, easy to maintain, and provides many years of performance. But like anything, it pays to keep the material in good shape, thus lengthening the lifespan and the enjoyment.
Removing dirt and debris: Certainly, artificial turf can be repaired, but it's far better to avoid the damage. As for dirt and debris, immediate cleanup is preferable, along with a finishing touch with a damp cloth. A "kid space" has little likelihood of a hazardous spill, but conventional spills should be wiped up ASAP.
Dust and airborne pollutants: Even indoors, there's a tendency for dust and airborne pollutants to settle on the installed turf. The best option here is to use a damp cloth or mop to eliminate surface dust. For areas that are soiled, a mild household detergent mixed with water will suffice (with a sponge).
Treating conventional stains: Artificial turf is typically stain-resistant. It means that most stains can be rinsed away with plain water. Here again, with a more persistent stain, a mild soap mixed with warm water will do the trick. The key to any type of cleaning or maintenance is to respond immediately.
Disinfecting the artificial turf: Artificial grass from Echoing Green is installed using an infill equipped with Microban technology that keeps bacteria at bay. For an added level of protection and sanitization, disinfectants like AquaKlor can be used to keep indoor playground healthy for kids.
Regularly brush the fibers: Regular brushing of the artificial grass surface is a good maintenance habit, especially if the play space is highly used. This keeps indoor and outdoor artificial grass in Toronto looking and feeling lush. When brushing, it's best to use a recommended tool and never use a brush with metal or wire bristles – these will more than likely cause damage.
To learn more about artificial grass for kids and play areas, the Echoing Green team is always here to help.
Call us today to speak with a turf specialist!