Give Your Pets Something Special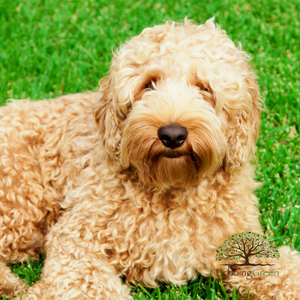 Your dog is more than a pet, they're a part of your family, and you want to give them everything they need to be happy and healthy. Despite your unconditional love for your pup, caring for them and maintaining your home can be a difficult task. From digging holes in your lawn to going out in the cold Mississauga winters to take them out, your dog requires time, attention, and energy.
Pet turf in Mississauga is a simple and high-quality solution to the demands of your pet. With revolutionary pet turf and artificial grass installation from Echoing Green, you can meet the needs of your pets with ease.
Benefits of Pet Turf in Mississauga
Artificial grass installation is excellent for pets and pet parents alike.
Odour-Free: Artificial grass for dogs is the perfect alternate potty pad for pets throughout the city. Installed with highly effective EnviroFill infill engineered with MicroBan technology, pet turf from Echoing Green is built to keep bacteria-causing odours away.
Convenient: Pet turf can be installed indoors or outdoors, giving pet owners easy access to green spaces. Indoor artificial grass installation makes taking your pet out during the winter easier than ever.
Mess-Free: Fastened securely to the ground, high-quality pet turf in Mississauga paired with expert artificial grass installation is free of mud. Your puppies can dig and run around freely without dragging dirt behind them or leaving holes in your lawn.
Pest-Free: Hard-to-control insects like mosquitoes, ticks, and fleas can torment pets while they roll around in the grass. Since insects tend to nest only in humid, dark, and tall natural grass, switching to artificial grass for dogs in Mississauga rids your lawn of these nuisance bugs.
Long Lasting: Like our entire selection of artificial grass, pet turf in Mississauga from Echoing Green is engineered to last for years, withstanding the daily use by even the strongest pets.
Low Maintenance: Pet turf in Mississauga gives your space a makeover with virtually no upkeep. After installation, your artificial grass will stay lush, lively, and beautiful with minimal care: no water, no fertilizing, and no mowing.
About Pet Turf from Echoing Green
Our Echo 60 pet turf is beloved by dogs and dog owners alike. The versatile synthetic grass is equipped with short, dense fibres and a strong polyurethane backing, enabling the flexibility and resilience to stand up to even the roughest play for year-round comfort and fun.
Is Artificial Grass Installation Right for You?
Pet turf simplifies landscaping and pet care for residential and commercial property owners across Mississauga. Our luxury artificial grass solutions are suited to busy pet owners or pet-centric businesses looking to create dog runs and play areas.
At Echoing Green, we offer expert artificial grass installation in Mississauga and other areas of the Greater Toronto Area, so you can get your pet turf ready for your dogs sooner rather than later.
Turn any space in Mississauga into a pet-friendly space with innovative artificial grass solutions from Echoing Green.