Revitalize your landscaping, upgrade your interior design, or enhance your backyard functionality with luxury artificial grass in Mississauga.
Say goodbye to natural grass or traditional flooring and embrace the ease and beauty of artificial grass from Echoing Green. Our selection of European grasses is engineered to perform for decades in various applications. From outdoor play areas and intricate landscaping to innovative design elements and indoor putting greens, when it comes to artificial grass in Mississauga, the options are virtually limitless.
Unlock the Potential of Artificial Grass. Contact Echoing Green.
Benefits of Artificial Grass Landscaping in Mississauga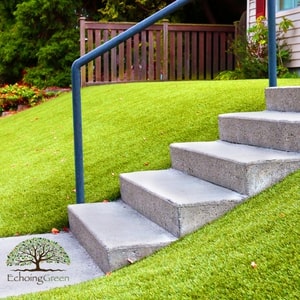 Natural grass lawns are vulnerable to the weather – too much sun or insufficient water can leave grass struggling and needing constant attention and repair. Keep your landscaping looking fresh and vibrant with low-maintenance synthetic turf that stands the test of time.
Maintenance-Free: Spare the time and money spent on watering, mowing, and fertilizing grass with an ever-green alternative that doesn't need daily attention to maintain its pristine appearance.
Weed-Free: Pesky dandelions and crabgrass can rapidly spread through grass, compromising curb appeal. With a weed-resistant barrier, artificial grass in Echoing Green prevents weeds from taking hold of your lawn.
Pet & Kid-Friendly Turf: Our non-toxic, padded, and pest-free turf is safe for play, so your pets and kids can get up close and enjoy it without risking their health or well-being. Enhanced by antimicrobial infill keeps bacteria away.
Advanced Features: Designed and engineered in leading European facilities, our exclusively sourced selection of artificial turf is built with a permeable backing to enable better drainage. Our grasses also feature UV protection to prevent fading and colour from bleeding for a bright, vibrant appearance that lasts decades.
Outdoor & Indoor Putting Green Design Mississauga
Artificial grass in Mississauga doesn't have to be just a lawn replacement. With the talented design and artificial grass installation team at Echoing Green, you can transform your space into an outdoor or indoor putting green.
With years of experience, Echoing Green specializes in custom outdoor and indoor putting green designs featuring our high-quality putting green turf. When you build a custom home golf green, you can choose the shape, size, hole location, and topography of the putting green to suit your space and skill level.
Residential & Commercial Turf Applications
The options for artificial grass installation in Mississauga are limitless. Whatever you have in mind for your turf, execute with Echoing Green. Some favourite applications for synthetic grass in Mississauga include:
Lawn Replacement
Patio, Pathways, Porch
Signage, Mats, Room Accents
Swimming Pool Perimeters
Balconies, Decks, and Rooftops
Dog Runs & Kennels
Wholesale Artificial Turf Mississauga
Echoing Green is a trusted artificial grass supplier for landscapers, supply stores, architects, and designers in Mississauga. From exclusive wholesale pricing to installation guidelines, you can count on the Echoing Green team for support. Our team also offers artificial grass installation contracting services in Mississauga to help you give your customers the high-quality landscaping they want with ease.
Luxury Turf from Echoing Green
Reimagine and revitalize your space with luxury artificial grass in Mississauga and the Echoing Green team. You can do everything from a custom indoor putting green to brand new backyard landscaping with high-quality turf.