How to Maintain Artificial Grass for Dogs
In addition to the enhanced convenience for pet owners, artificial grass for dogs is a wise investment for the health and comfort of our pets. When homeowners replace natural grass around their property, artificial turf in Toronto reduces our pet's exposure to allergens and ingestible hazards like mulch, weeds, fleas, and ticks that often unknowingly make dogs sick. By installing artificial grass for dogs in place of natural grass, these risks are minimized, and your new turf can serve as anything such as a playground, a bed, a potty pad, or an escape for our pets.
To make matters even better, as all artificial grass in Toronto, pet turf is significantly low maintenance compared to natural lawns. Still, to keep it in tip-top shape, there are a few steps you can take to keep artificial grass for dogs clean and hygienic.
Rinse Turf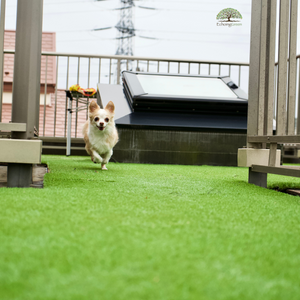 Many owners use artificial grass for dogs as a designated bathroom area for their pets. While this is an effective use of artificial turf in Toronto due to its bacteria-resistant nature and draining abilities, bacteria may start to build up if waste is not adequately removed from the surface. You won't have to worry about scrubbing or cleaning your artificial lawn daily, but a regular rinse with your hose targeting the areas your dog likes best will wash any remnants of waste away for a more hygienic outdoor environment. Backyard turf from Echoing Green is engineered to effectively facilitate water flow, so you won't have to worry about waterlogged turf when you shop our selection of European grasses.
Eliminate Organic Materials
One of the reasons artificial grass can offer its benefits to homeowners and pet owners is because it is manufactured and stalled without organic materials like soil or dirt. However, since turf is typically installed outdoors, organic materials that exist naturally outside, like leaves, flowers, and even tree saps, can accumulate. To be as healthy as possible for pets and people, it's essential to clean up any organic waste that has found its way to your pristine synthetic lawn, especially if it is wet. Wet leaves can be the source of mold, mildew, ticks or fleas in your home, whether you have switched to artificial grass or not. If your dog unknowingly rolls around in contaminated organic waste, they can become sick. To ensure your lawn is mold, bacteria, and pest-free, sweep turf whenever you notice leaves starting to accumulate.
Disinfect Turf
To be safe, it's a good idea to disinfect pet turf. You can do this with either a homemade artificial grass cleaner or store-bought disinfectant designed for synthetic turf. Some pet owners with artificial grass for dogs use combinations of baking soda, vinegar, or soap to form a disinfecting concoction to neutralize pet urine. Another, more certain option for pet turf is store-bought artificial grass cleaner. You can find AquaKlor from Echoing Green, an environmentally-friendly disinfectant turf cleaner that's safe for pets and people alike.
AquaKlor
Aquaklor is a complete cleaning solution for artificial turf in Toronto that streamlines disinfection and sanitization. The easy-to-use product does all the heavy lifting, eliminating odours, mold, and mildew without any toxic residue or chemical buildup. Pick up AquaKlor disinfectant cleaner easily online from Echoing Green when shopping for artificial grass in Toronto.
Like artificial grass for backyards, pet turf is an easy-to-maintain solution for pet owners around Toronto and the GTA. When you choose artificial grass for dogs, you'll spend less time on lawn care and more time bonding with your four-legged friend.
Contact Echoing Green today for a pet turf consultation.