How to Decorate Your Home with Artificial Grass for Walls
Artificial turf in Toronto is often considered a practical flooring option for parks, schoolyards, daycares, backyards, putting greens, and lawns. But there are many more innovative applications for artificial grass that homeowners and interior designers can use to enhance spaces around your property, namely artificial grass for walls.
If you're looking to add texture, a pop of colour, or intrigue to your home, read on to learn how you can achieve that by installing artificial turf in Toronto on your walls.
Backyard Artificial Turf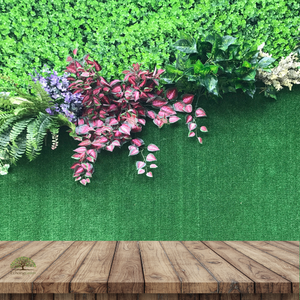 Do you love garden parties and green patio space? Then, artificial turf in Toronto is an excellent fit for the backyard. But, instead of replacing your backyard grass, try artificial grass for walls. When you install artificial turf on the bricks or fencing around your house, you can create a secluded and private backyard space that's well suited to entertaining or lowkey. UV-protected artificial turf from Echoing Green withstands heat and sun exposure during the hot Toronto months.
Artificial Turf for Nurseries
Decorating a nursery is an exciting time for expecting parents and a good opportunity to be creative. An empty bedroom is a blank canvas that can be transformed into a special space for you and your family. Artificial grass for walls in your nursery can enable a calm and nurturing environment. Some studies suggest that the colour green promotes serenity, thinking, and concentration. Even on the inevitably hectic days, a little dose of green in the form of artificial turf in Toronto can help parents and children reset. Of course, when you shop for artificial grass from Echoing Green, you can customize the colour of your turf. As an added bonus, artificial grass on the walls is easy to clean for busy parents, and it gives a hassle-free option for sensory play.
Artificial Grass for Kitchens
If you love to cook and entertain, the kitchen is likely the heart of your home. With artificial grass in Toronto, you can adorn that space. Artificial grass for walls can be used in your kitchen for backsplashes and accent walls to bring out your inner green thumb. Indoor artificial turf in Toronto makes a strong, vibrant statement in any kitchen or breakfast nook, all while being low maintenance and time-effective as it is easy to clean and disinfect following the occasional spill or kitchen mess.
Artificial Grass for Soundproofing
Music lovers, readers, or even exercise fanatics can benefit from a special quiet zone to indulge. Artificial grass for walls enhances soundproofing around the home, so you can read without distraction from the outside world. In contrast, the soundproofing qualities of artificial grass allow you to build an enclosed space where you can work out or practice an instrument without bothering anyone else in your house.
Artificial Turf for Walls from Echoing Green
Artificial grass in Toronto is a unique and creative decor choice for any property, whether it's being installed inside or out. At Echoing Green, you can customize colours, lengths, shapes, and patterns for a personalized space. To learn more about our premium European artificial turf in Toronto, contact us today.