Choose Strong, Durable & Pet-Safe Artificial Grass Vaughan
Pets are part of the family. Provide them with a safe, comfortable environment with luxury pet turf in Vaughan. At Echoing Green, we provide quality European-made artificial grass for commercial and residential properties in Vaughan.
Our selection of artificial grass for pets is made from the highest quality materials and designed to withstand heavy wear and tear from pets. It is resistant to stains, fading, and wear, making it a low-maintenance option for pet owners. It is also soft to the touch, providing a comfortable surface for pets to play on, and is easy to clean.
Why Dog Owners Choose Echoing Green Pet Turf in Vaughan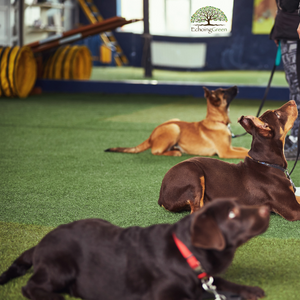 Artificial grass in Vaughan brings many benefits to both dogs and pet owners alike. Over time, high-quality and durable pet turf reduces maintenance needs and costs, saving property owners time and money.
Enable Convenience: artificial grass for dogs in Vaughan can be installed both indoors or outdoors on virtually any surface. So whether nature is calling or your pet just needs some time to play around, there's always a good spot for your pup with artificial grass from Echoing Green. Pet turf in Vaughan can be installed in backyards, on balconies, rooftops, basements, or anywhere else you imagine.
Maximize Comfort: Artificial grass is soft to the touch, providing a comfortable surface for pets to play on, roll around, or simply nap on. With no organic materials involved in the installation or manufacturing of our luxury Pet Turf, irritating contaminants such as mould, flees, and ticks are virtually eliminated, protecting your dogs for the long run.
Non-Toxic & Safe: Keep your pets safe with non-toxic artificial grass in Vaughan. From manufacturing to installation and years afterward, pet turf in Vaughan is free of fertilizers and pesticides, which can be incredibly harmful to dogs and other pets if ingested, enabling safe play and peace of mind for pet owners.
Easy-to-Clean: With artificial grass installation from the experts of Echoing Green, you don't have to worry about pungent odours building up in your home or backyard. Echoing Green is installed with premium infill engineered to keep bacteria-inducing odours out of your grass for good. Maximize pet turf cleaning with easy-to-use AquaKlor disinfectant that easily rinses away bacteria in a matter of seconds.
Aesthetically Pleasing: Artificial grass is available in a range of colours and textures, so pet owners can choose the perfect match for their outdoor or indoor space in Vaughan. It is also designed to look and feel like natural grass remaining lush, full, and vibrant for years.
Installing Pet Turf Vaughan
Maximize the durability and resilience of your artificial grass in Vaughan with expert pet turf installation for commercial and residential properties with Echoing Green. Using the best tools and luxury grasses, our pet turf lasts for many years securely, looking fresh and new even after heavy use,
At Echoing Green, we offer a ten-year warranty on all of our luxury grasses and commit to delivering a high standard of service.