Residential & Commercial Turf
Offering Residential and Commercial Turf Garden that looks lush and beautifully maintained 365 days a year.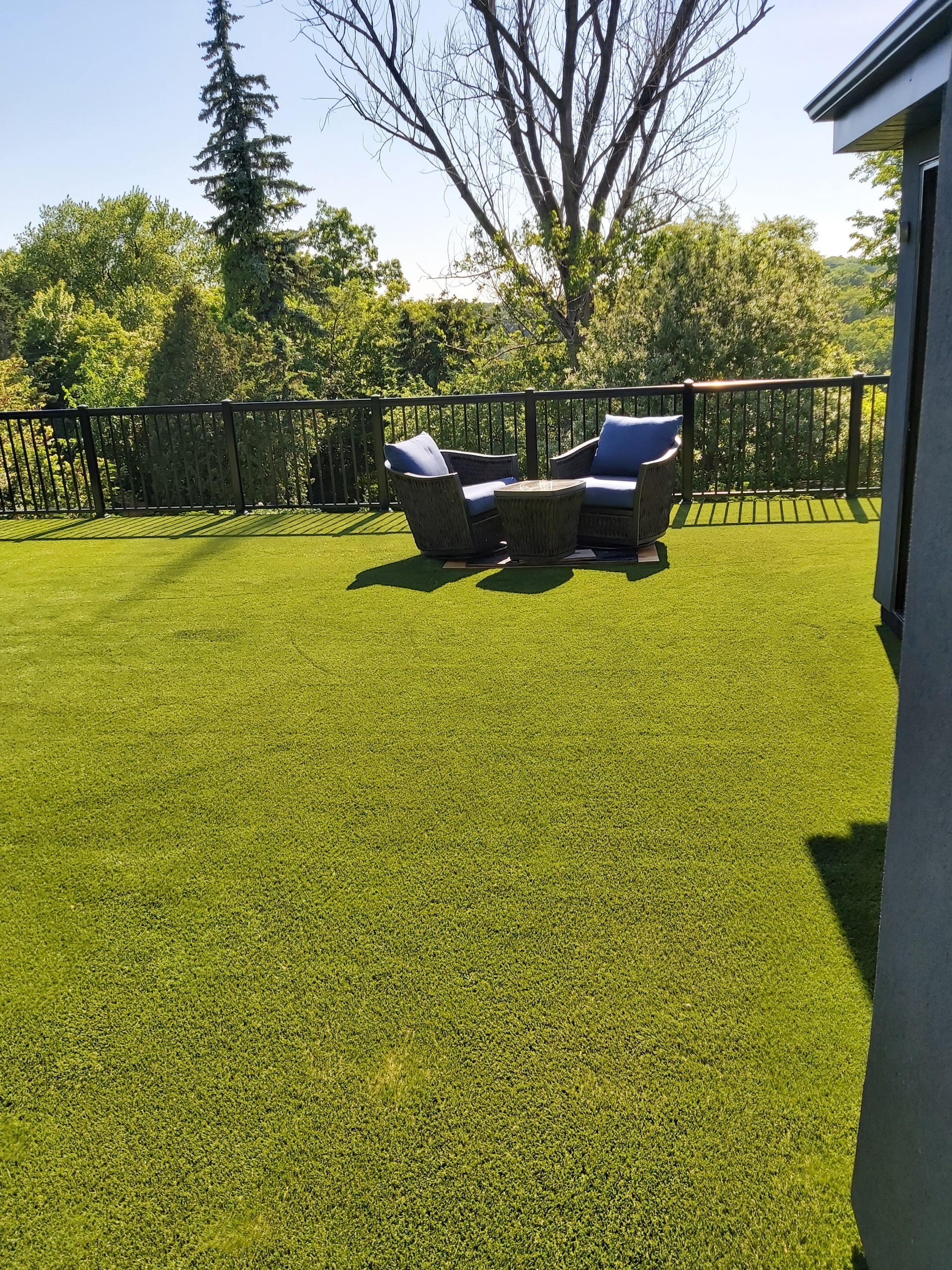 The Process: Installing artificial grass is not just laying grass, it's putting together a solid and secure base system that allows for drainage. All the parts work together contributing to the end result, a beautiful, healthy looking lawn all year round.
We prepare the area by removing 3" of earth and where needed, level it. A high density weed barrier is then put into place followed by 3" of HPB (High Performance Bedding) a highly drainable ¼" chipped rock. The turf is then laid and secured by 6-9" ungalvanized spikes around the perimeter.
Lastly, Envirofill Infill is broom swept deep into the blades to eliminate bacteria growth, stains and odors. The infill also weighs the grass down, keeps the blades standing upright and adds ballast.
Front Lawns
Artificial residential turf offers great curb appeal for your home or your business. You'll no longer require the help of landscapers or lawn maintenance crews and you'll cut down on your water bills. With an Echoing Green artificial lawn, you can transform a sometimes difficult and hard to manage lawn into a low-maintenance, beautifully manicured landscape. We'll keep the natural look of your yard by craftily and carefully cutting around trees, flowerbeds or walkways.
Back gardens
You're meant to spend your time relaxing, entertaining or enjoying a little playtime in your backyard. Whatever you envision for your yard, we offer a variety of yarn textures, pile heights and shades of green to suit everyone's individual preferences. Our residential turf add a softscape look to a hardscaped yard. Whether it's around a pool, patio, gazebo or deck our grass offers colour, softness and texture to any yard. Artificial grass is a great solution for heavily treed yards where grass doesn't grow. Unlike real grass, it doesn't require sunlight to flourish and look it's very best. From small yard spaces to larger treed yards, no job is too large or too small for our Echoing Green installation crews.
Commercial Spaces
Create a Green Rooftop, Terrace or Balcony
Commercial turf can be used to transform hard, cold concrete balconies into soft-cushioned walkouts. It can also be used to add colour 'while also insulating' to dull and lifeless rooftops. Create previously unusable areas into enjoyable relaxing green spaces.For Condo Board members, opt for a clean, easily maintained green space for pets to relieve themselves. No more mud patches and no muddy paw prints being tracked into hallways or common areas.

Maintenance
...... And this is the part we love to talk about the most! There's very little to be done to your artificial lawn. If it's a hot day and you feel the grass is warm, give it a cool rinse with a hose. To remove leaves in the Fall you can use a plastic rake, broom or leaf blower to clear them away.
Note: If you DO use a leaf blower don't blow directly down as you'll blow out the infill. Blow slightly at an angle.