Where Can Artificial Grass Be Applied?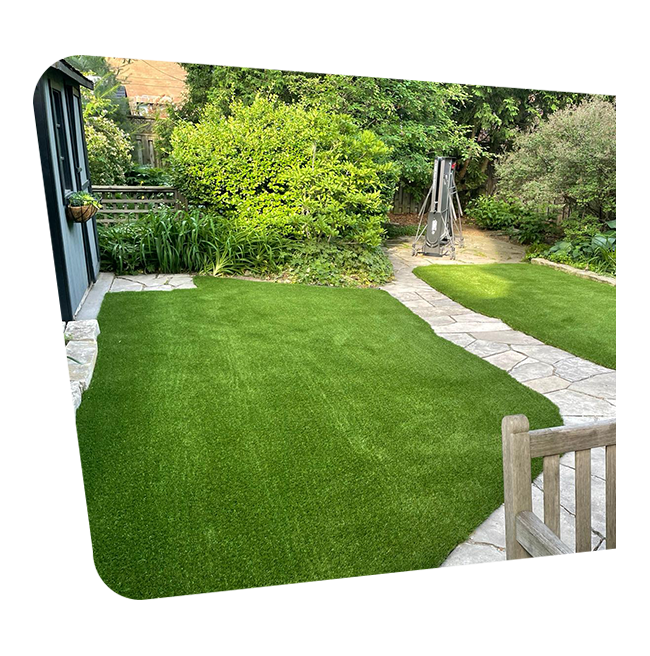 Our premium artificial grass can be designed, cut, and customized to suit the specific needs of your space. Apply artificial turf to virtually any surface: wood, concrete, dirt with installation professionals at Echoing Green.
Backyards
Grass Walls
Swimming Pool Accents
Pet Turf
Outdoor Landscaping
Schools & Daycares
Courtyards
Patio Borders
Putting Greens
Playgrounds and Play Areas
Sports Field
Gardens
Malls
And so much more.
Front Lawns
Artificial residential turf offers great curb appeal for your home or your business. You'll no longer require the help of landscapers or lawn maintenance crews and you'll cut down on your water bills. With an Echoing Green artificial lawn, you can transform a sometimes difficult and hard to manage lawn into a low-maintenance, beautifully manicured landscape. We'll keep the natural look of your yard by craftily and carefully cutting around trees, flowerbeds or walkways.
Back Gardens
You're meant to spend your time relaxing, entertaining or enjoying a little playtime in your backyard. Whatever you envision for your yard, we offer a variety of yarn textures, pile heights and shades of green to suit everyone's individual preferences. Our residential turf add a softscape look to a hardscaped yard. Whether it's around a pool, patio, gazebo or deck our artificial grass offers colour, softness and texture to any yard. Synthetic turf is a great solution for heavily treed yards where grass doesn't grow. Unlike real grass, it doesn't require sunlight to flourish and look it's very best. From small yard spaces to larger treed yards, no job is too large or too small for our Echoing Green installation crews.
Commercial Spaces
Create a Green Rooftop, Terrace or Balcony
Commercial turf can be used to transform hard, cold concrete balconies into soft-cushioned walkouts. It can also be used to add colour 'while also insulating' to dull and lifeless rooftops. Create previously unusable areas into enjoyable relaxing green spaces.For Condo Board members, opt for a clean, easily maintained green space for pets to relieve themselves. No more mud patches and no muddy paw prints being tracked into hallways or common areas.
Maintenance
...... And this is the part we love to talk about the most! There's very little to be done to your artificial lawn. If it's a hot day and you feel the grass is warm, give it a cool rinse with a hose. To remove leaves in the Fall you can use a plastic rake, broom or leaf blower to clear them away.
Note: If you DO use a leaf blower don't blow directly down as you'll blow out the infill. Blow slightly at an angle.
Recommended Residential & Commercial Grasses Products
Benefits of Artificial Grass for Residential and Commercial Properties
Low Maintenance

Save time and energy spent on regular lawn care: no more lawn mowing, fertilizers, and watering. Your grass will effortlessly stay green and stay the perfect length hassle-free.

Cost-Effective

When you install artificial grass, you will no longer have to pay for routine lawn care. All the chemicals, fertilizers, water, and equipment necessary to maintain natural grass will be gone from your bill.

All Year Green

Through rainy seasons, heavy snowfall, or dry summers, synthetic turf will endure all of Toronto's ever-changing weather conditions to remain green, lush, and beautiful all year long. You will no longer have to worry about weeds or yellowing lawns.

Our artificial grass is especially protected against the sun's UV Rays to prevent colour-fading and bleeding and stop grass from overheating to look beautiful and be enjoyed at all times.

Durability & Longevity

The average artificial turf is expected to last 15-20 years. At Echoing Green, our premium artificial grass is designed to perform for years with minimal care. Whether your grass is exposed to the elements, high traffic, or battering from sports, our synthetic turf is installed by our team of seasoned professionals to ensure quality workmanship and durability.

Non-Toxic

From the fibres of our artificial grass to our infill and installation process, Echoing Green's artificial grass is designed without lead and other harmful materials. It requires no chemicals like fertilizers, pesticides, and herbicides for upkeep.

Realize the benefits of Premium Artificial Grass in Your Residential or Commercial space with the experts at Echoing Green.
Why Choose Echoing Green
At Echoing Green, we offer nothing less than excellence for all your residential and commercial grass needs. Our unique artificial grass exceeds industry standards. When you replace sod with artificial grass from Echoing Green, you're upgrading to lush, beautiful, long-lasting grass.
Design

Design a custom layout tailored to showcase your space. At Echoing Green, we help you tailor your artificial grass to fit the parameters of your space and enhance its aesthetic.

Quality

We prioritize quality. Our artificial grass is engineered to outperform competitors and is sourced from premium manufacturers in Spain and Holland who distribute the high-grade product exclusively worldwide. Echoing Green is the sole Canadian distributor of this premium synthetic grass.

Customization

If you want to spice up your synthetic turf application, then Echoing Green is still the choice for you. We offer premium customizations like colour, cut, and branding.

Full Service

Our team of industry experts is happy and equipped to support and guide you through your entire artificial grass journey. From consultations, design work, layout to the product, and installation, Echoing Green ensures excellence in every step.

Performance

Our uniquely designed turf is built to facilitate superior drainage so bacteria, dirt, dust, and other contaminants won't linger on the surface of your artificial lawn. It's also designed for colorfast protection to avoid damage from the sun's UV Rays and prevent overheating on hot days.

Experience

We have over 20 years of experience in the artificial grass industry under our belt. From manufacturing and design to installation, we pride ourselves in mastering our craft and providing our customers with a product that exceeds the standards of durability, longevity, and visual appeal.
Contact Echoing Green Today to Apply Our Premium Artificial Grass to Your Space.
Learn More About How to Incorporate Residential Artificial Grass into Your Landscape