Indoor / Outdoor Sports Turf
Tried and tested Echoing Green's Sport Turf is ready for your next game or sporting event.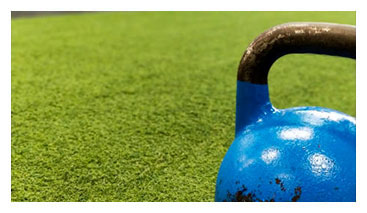 Trying to schedule a game or a sporting event on a natural grass field can sometimes be very difficult. Weather, maintenance and field recovery from previous games can become unpredictable and costly. Installing an Echoing Green Sports Turf will make game scheduling and field readiness much easier. Our Sports Turf will eliminate monies spent in repair, maintenance, lost playtime due to inclement weather or poor field conditions. Maintaining a typical natural grass playing field in an optimal and 'playable' condition can become very costly. Consider the ongoing use of fertilizers, weed killers, pesticides, re-sodding, mowing, and watering and regardless of all that upkeep, rigorous play will eventually wreak havoc on natural grass.
What to look For when Considering Sports Turf:
Choosing the right type of turf for sports is crucial. It is essential that the grass varieties in the mixture are designed to withstand hard wear and have ballast which aids in quick recovery time. Sports fields and arenas have changed over the last 20 years and so have options and opinions toward artificial turf fields. Artificial grass has now been shown to be a more durable, safer, and more cost-efficient solution to real grass.
Echoing Greens Sports Turf for both Indoor and Outdoor Play:
Echoing Green can customize any space you want with your favourite logos or emblems in your favourite colours and done to your own specifications. Looking to have your team emblem on your artificial grass playing field? Echoing Greens indoor and outdoor artificial sports turf is the same high quality as our landscape grasses and installed by our same professional installation crews. As with our residential grasses, our sports grasses require little maintenance and are free of fertilizers, weed killers and pesticides.
Outdoor Sports Turf and Athletic Fields:
FOOTBALL
From Playgrounds to Sports Fields to Stadiums there is no greater tradition than American Football. It's a physically demanding game that takes strength, speed and agility and requires a surface to withstand the rigors of the athletes. Echoing Green's Football Turf is tough, durable and resilient and will be ready for your team regardless of weather conditions. Our Sports Football Turf is tested and tried and is of superior European Quality offering an enhanced athletic field surface.
BASEBALL AND BATTING CAGES
Baseball is still number 1 when it comes to pulling at their fan's heartstrings. Why? Because we here in North America are entrenched with baseball history and every aspect that this game has to offer. We tend to put Baseball aside during the winter months as we occupy our time with such sports as football, hockey or basketball . . . but we always seem to revert back to what's happening in the world of Major League Baseball. We at Echoing Green understand the love of the game. We also know the stress and rigor that these athletes place on the fields. Our sports turf is built to endure and withstand such rigors, it also is built for a quick recovery with no downtime, repair, or maintenance required.
SOCCER
Soccer in Canada is the most popular sport in terms of participation rate, it ties together communities through the love and emotion of the game. It is by far the number one sport worldwide.
Natural grass has been the product of choice for many years for most athletic fields but with tighter budgets and more funds required for upkeep, maintenance, and a surface with 'ready' playability artificial soccer grass has become a significant and optimal solution for athletic fields and arenas. Concern about weather, playability and field performance will no longer be a concern with our soccer turf and athletes can focus on their game and their opponents.
Artificial Grass for Gyms and CrossFit
Echoing Greens Gym Turf is an optimal solution for both indoor and outdoor functional training surfaces. Our Indoor/Outdoor Gym turf is designed for such high intensity workouts like interval training, agility skills training, cardio training and workouts requiring heavy weights and intense friction from either dragging or pulling equipment. Our high density sports grasses and our Playlite under pad offer shock absorption and comfortable footing. We will also offer customized logos, emblems or your Gym's name in a variety of colours and grasses.