Artificial Grass in Toronto Fit for Homeowners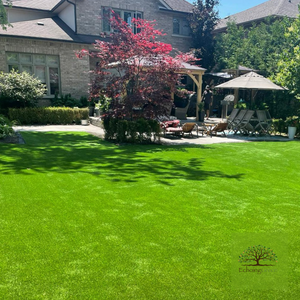 Homeowners are busier than ever. Despite wanting the perfect lawn, the time and resources to devote to achieving it with natural grass are often unavailable. Artificial grass installation gives homeowners in Toronto the room to have a beautiful lawn while maintaining a social life, family, and job.
Save Time: Our luxury artificial grass is virtually maintenance-free. From the point of installation, artificial grass in Toronto cuts down the time homeowners have to devote to lawn care. Never water your grass or mow your lawn again.
Spend Less: The costs of landscapers, new sod, and lawn treatments are all eliminated paired with a significantly reduced water bill when you switch to artificial grass for your home.
Child & Pet Friendly: Artificial grass is non-toxic, durable, and shock-absorbent, making it well-suited towards children and pets, so if you are parents of either or even both, you can rest assured that everyone is safe playing outside.
Customizable: You have all the choices when it comes to artificial grass in Toronto. Choose residential Turf in various lengths, colours, and shapes. You can even have artificial Turf in Toronto installed in creative applications beyond the front lawn. From patios to walls, the choice is yours.
Long-Lasting: Artificial grass for backyards, front lawns, or other residential applications lasts the test of time. At Echoing Green, our Turf uses advanced technology to resist deterioration over the years from external elements, and it's backed by a 10-year warranty.
Curb Appeal: When you switch to artificial grass, you can present the best home landscaping for maximum curb appeal to your neighbourhood. Artificial grass offers cohesive, neat, and vibrant front lawn landscaping if you want to cash in on compliments.
Artificial Grass Installation in the Greater Toronto Area
Get a professional artificial grass installation that stands the test of time. At Echoing Green, our team of experienced and trained turf landscaping professionals offers high quality installs that remain secure and in good condition even after years of use. From our high-quality synthetic turf to our exceptional installation services, homeowners in Toronto, like you, can reap the long-lasting benefits of artificial turf for their homes.
Consultations & Customer Service
At Echoing Green, we stock a full range of exclusive artificial grass in Toronto equipped with advanced technology to support long-term performance that enables superior drainage, effective temperature resistance, and exceptional durability. We are committed to providing our customers with luxury artificial grass in Toronto and the surrounding areas.
Call our team for a consultation to pick the right one for any of your home applications. The Echoing Green team is here to answer your questions and help guide you. Your turf will last years, so get the one that best suits your needs.
Contact our team for more information or view our selection of turf online.