DIY or Expert Artificial Grass Installation?
When it comes to artificial grass installation, many homeowners wonder if they can install their own grass. The short answer is yes – particularly when the home improvement budget is limited. Like so many other projects, the DIY approach can certainly reduce costs. For homeowners who are considering backyard turf and landscaping in Toronto, there's also a time when an expert can be valuable.
The thing is, with a DIY installation, it's essential to understand the scope of work. There are several preparation steps; there are specific product instructions; and above all, the work is quite labour intensive. The last thing anyone wants is to do all the work and be unhappy with the finished results. At that point, it's a little late to have second thoughts and call in an expert.
There's a big difference between installing artificial grass on a condo balcony and installing an entire backyard. Simply put, a condo balcony with a fixed space poses much fewer challenges than a huge backyard. Whether it's a DIY project or a professional installation, the important thing is to purchase a high-quality artificial turf product. It will ensure the best long-term performance.
Pre-Planning For Most DIY Installations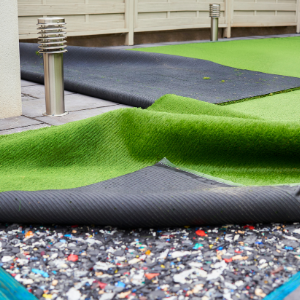 Regardless of where the artificial grass is being installed, the DIY installation requires a step-by-step approach. First, the installation surface must be assessed, even though artificial turf sits nicely on most hard surfaces. When laying down turf on a wood deck, it's crucial to protect the wooden planks from potential rotting down the line.
With an artificial grass installation, the turf material should not be laid down on an uneven surface. This could easily create an uneven installation with an unappealing look. It's possible to install an "underlay" that will level everything out when working on an uneven surface. On the flip side, with an even surface like a condo balcony or concrete deck, it's easier.
Drainage is probably the most critical aspect of an installation, whether it's a personal DIY project or a professional install. A poor installation, along with inadequate backing, will probably result in water pooling when it rains. The best way to avoid this is to properly plan out the drainage before laying down any grass (product instructions must be followed).
Installing Artificial Grass on The Balcony
Installing artificial grass on a balcony is much easier than installing grass on a lawn. Naturally, on a balcony, there's no need to do any groundwork. Here again, it's essential to follow the instructions provided by the manufacturer. This would include everything from trimming the edges to properly securing the backing to ensuring the appropriate drainage.
It's essential to effectively fasten the turf material at entrance points to prevent tripping hazards for safety reasons. With artificial grass installation, it's worth shopping around for the right product and even seeking some professional advice on which product to choose. This will primarily depend on the amount of foot traffic that's expected.
A DIY installation would likely take most of the day from start to finish for an average-size balcony. There are a number of installation steps to follow and manufacturer guidelines to consider. While a small balcony would be quite easy to finish, this is still a labour-intensive project, and some professional advice is always a valuable element.
Professional Artificial Grass Installation
Homeowners planning to install an entire backyard with artificial grass would do well to contact an expert. By any definition, this is a significant project undertaking – and a poor DIY installation could turn out to be aesthetically unattractive. Professional installers have the experience, expertise, and techniques to create a beautiful landscape that will perform for many long years.
When it comes to installing artificial grass in Toronto, a professional touch can be the difference between ordinary and extraordinary. At Echoing Green, we do it right from start to finish – we suitably prepare the base; we professionally cut and trim; we properly secure and finish. Our exclusive backing system ensures proper drainage and optimum seasonal performance.
Working with Echoing Green, customers are always assured of 100% satisfaction. And while we do provide our proprietary products for a DIY installation, we typically recommend a professional installation for an entire backyard or front lawn. More than that, our custom grasses come with a 10-year product warranty – a sure sign of a quality product and long-term performance.
For Artificial Grass in Toronto Call the Experts at Echoing Green
For artificial grass Toronto, Echoing Green offers high-quality European grasses designed to be natural-looking, realistic in texture, and hard-wearing. When it comes to installation, our crews have the expertise to provide a fabulous aesthetic, regardless of the space.
For an immediate price quote on your project, try out our convenient online cost estimate calculator.
Contact the Echoing Green team directly to discuss your project with one of our in-house experts.
Echoing Green - Artificial Grass Toronto - 140 Yonge St Suite 373, Toronto, ON M2R 3V1