Why You Need Artificial Grass for Your Deck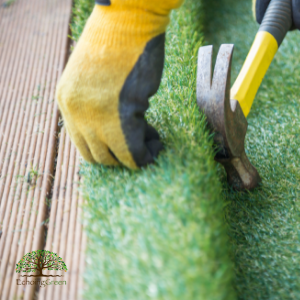 While many homeowners are familiar with artificial grass installation in Toronto, there are many more options for installing the product inside and outside the home. As an example, homeowners have been installing artificial grass on decking, on patios, and even walkways that surround the home.
The truth is, artificial grass can be installed over most hard surfaces – and there are plenty of good reasons to do it. The important thing is to choose a high-quality artificial grass product and ensure a proper installation. This is the best way to assure many years of use and enjoyment.
Some Great Outdoor Applications
Indoors and outdoors, there are many benefits to installing artificial grass, particularly for those who enjoy the lushness throughout the year. With minimal maintenance requirements and very little upkeep, artificial grass can provide a unique surface in a variety of applications.
Apartment Balcony or Deck: For those living in a high-rise apartment or condominium, artificial grass on decking is the ideal way to enjoy a "lawn". Whether it's a traditional balcony or a spacious deck, artificial grass does provide that backyard feel. It can be custom cut to fit perfectly and can even be highlighted with assorted plant boxes. With artificial grass, drainage is no problem and the surface dries quickly – there's no chance of mold or mildew and the surface can be very easily cleaned off.
Around the Swimming Pool: In addition to installing artificial grass for the backyard, it's also possible to install it around the swimming pool and create a unique-looking feature. Artificial turf will not get slippery when wet, so it's a safe surface for swimmers. It's supple and comfortable underfoot, and will not get damaged by the pool chemicals. Best of all, artificial turf creates a beautiful environment compared with concrete, and everything blends nicely with the rest of the existing landscape.
Ideal for a Rooftop Garden: Artificial grass can be an innovative way to convert a boring rooftop deck into a beautiful rooftop garden. Here again, there's no need for any conventional maintenance, like mowing, watering, or fertilizing. And there's no worry about drainage. With some outdoor furniture and decorative plants, this is an added living space that enhances everyone's lifestyle. With a quality installation, the long-term benefits of this type of installation make the initial investment well worthwhile.
For Quality Artificial Turf Count on Echoing Green
Whether you're installing artificial grass for the backyard (or artificial grass on decking), you can count on Echoing Green for the best quality products. Our artificial grass products provide years of durability and resilience, and we provide a 10-year warranty to ensure satisfaction.
Echoing Green is the exclusive distributor for premium European Grasses, all of which adhere to the strictest European Standards. We can arrange for a project assessment and price quote – or you can get an INSTANT QUOTE with our online calculator!
Contact our team today to find out more about our company, products, and services.
Echoing Green - Artificial Grass Toronto - 140 Yonge St Suite 373, Toronto, ON M2R 3V1