Why Artificial Grass Is Great For Your Patio
Artificial grass in Toronto is used more frequently in the backyard now more than ever, but it's more than just a replacement to natural lawns. Synthetic turf can be installed on patios to enable a vibrant, unique, and attractive environment. Whether your patio is where you spend time with family, entertain guests, or indulge in some alone time, patio turf can customize your patio to create an aesthetic you're proud of, reflecting your custom vision. Not only will artificial grass for patios enhance landscaping, but the installation of synthetic turf also offers various benefits to homeowners, saving them money and time.
Artificial Grass From Echoing Green is Loaded With Benefits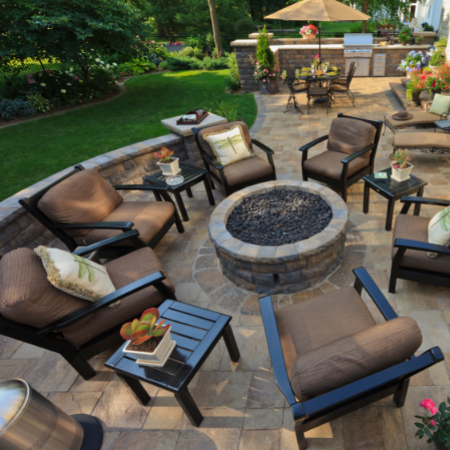 There's no doubt that artificial grass presents homeowners and backyard lovers with a long list of benefits that make installation worth your while — cash in on more than just time savings with premium synthetic turf from Echoing Green for your patio.
Durable
Cost-Effective
Low Maintenance
Weed Free
Improved Pest Control
Weather Resistant
UV Ray Protected
Effective Drainage
Children & Pet Friendly
Customizable Design
Artificial Grass for Patios Offers A Variety of Application Options: Artificial grass for patios can be installed over asphalt or concrete pavement for easy installation. You don't have to invest time or money into excavating land if there is concrete in place. Your patio turf can be simply installed over smooth concrete so you can enjoy it faster.
As a result of the versatility of artificial grass, patio turf can be used in many different ways. You can rest furniture or barbecues on artificial grass, use it as an accent, create tiles, line pathways, or even frame the different sections of your patio.
Artificial Grass for Patios Lasts Years: Manufactured for longevity and installed with high-quality workmanship, artificial grass is designed to withstand the wear and tear of repetitive use, the elements, and debris. Non-toxic chemical treatments and premium European standards make artificial grass extremely durable, even for high traffic areas and heavy objects. At Echoing Green, our artificial grass is treated for UV protection to resist damage from the sun for years to come.
Low Maintenance Artificial Grass is a Cost-Effective Solution: Artificial grass for patios allows you to have the visual appeal of grass without all the care. When you install synthetic patio turf, your grass will stay green year-round without needing to be watered, fertilized, or sprayed with harsh chemicals. The low maintenance threshold makes patio turf incredibly cost-effective by keeping water bills low even during the hottest months of the year.
Easy, Weed-Free Patios: Even a single weed can ruin the look of otherwise perfect grass. Artificial grass for patios is installed with a weed barrier that will stop any weeds from penetrating the grass. As a result, minimize weeds spreading to other areas around your patio bricks, concrete, or gardens.
Customize Your Patio Turf with Echoing Green: Synthetic patio grass can be tailored to your individual style to make your backyard truly your own. With artificial grass, there is no reason you have to stick to straight lines or standard squares. Your turf can be cut into different shapes and sizes to create a design that best fits the layout of your patio. Your patio turf is not limited to just green. You can choose from a variety of colours that make your patio even more unique. In some cases, Echoing Green can even add branded logos or prints to artificial grass added customization.
Take your patio to the next level with exclusive artificial grass from Echoing Green.
Contact us to get started right away!
Echoing Green - Artificial Grass Toronto - 140 Yonge St Suite 373, Toronto, ON M2R 3V1