Luxury Artificial Grass in Hamilton
Realize the benefits of advanced landscaping solutions with artificial grass in Hamilton. Leave the troubles of lawn maintenance behind you and revamp your indoor or outdoor space with high-quality turf and artificial grass installation from Echoing Green.
Artificial Grass from Echoing Green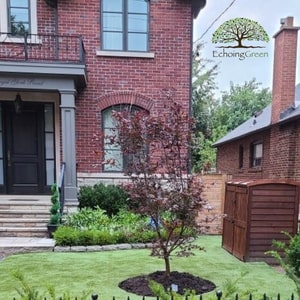 Want to impress passersby and make beautiful landscaping simple?
Ditch the natural grass and realize the benefits of exclusive European artificial turf from Echoing Green. Our selection of grasses is engineered and manufactured in state-of-the-art facilities in Spain and Holland to look lush and feel real while outperforming natural grass.
Residential Artificial Grass in Hamilton
Tired of mowing your lawn or watching your water bill skyrocket because of the resources spent on your grass every month. Residential artificial grass installation frees homeowners in Hamilton from the financial and time burden of lawn care. Landscaping grasses from Echoing Green stand the test time, staying green all year long without any expensive chemical treatments or tedious weed-pulling.
How Are Homeowners Using Artificial Grass in Hamilton?
Artificial grass is incredibly versatile. Whether you're looking for a simple alternative to natural grass or want to embrace your creative side, artificial grass in Hamilton can do it all. You can install artificial grass for your pets or your kids' playrooms, build custom putting greens, replace your front lawn, landscape your swimming pool, upgrade your balcony, and so much more.
Commercial Artificial Grass Hamilton
Revamp your business with artificial grass installation. Increase curb appeal and attract new customers with luxury artificial turf solutions destined to impress customers and save your employees time. At Echoing Green, you can brand your artificial grass with your logo or company colours for a fun addition to your storefront or office that boosts marketing efforts.
How Are Business Owners Using Artificial Grass in Hamilton?
The options for commercial artificial grass are virtually limitless.
Are you a vet or a pet store? Non-toxic artificial grass for dog runs encourages pet owners to stay a while. Run a daycare or kid-centric institution? Outdoor or indoor artificial grass installation enables safe play and reduces playground injuries. Feel free to get creative with custom installation options from Echoing Green and install luxury premium turf to walls or even build office putting greens.
Wholesale Artificial Grass Hamilton
Whether you're a landscaper, a supply store, or a designer, you can offer your customers the best quality with European artificial grass from Echoing Green. With exclusive artificial grass in Hamilton, Echoing Green turf is synonymous with quality and performance.
Artificial Grass Installation Services for Wholesale Customers
Want to offer artificial grass installation to your customers? Echoing Green can help. If you're new to artificial grass in Hamilton, our team of experts offers synthetic grass installation services and professional guidance. You can choose the best synthetic turf for your projects and give high-quality results every time.
Echoing Green is here to answer all your questions and support your artificial grass journey, from finding the perfect turf to installation.