European Artificial Grass in Brampton
Reimagine grass with luxury artificial turf installation. Transform your commercial and residential spaces with neat, low-maintenance, and creative artificial grass in Brampton.
Residential Artificial Grass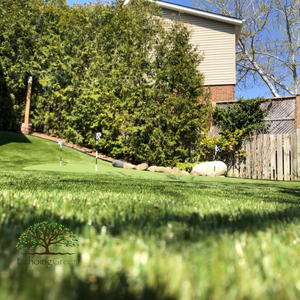 Whether you want a simple, easy-to-maintain lawn or want to go big with custom turf landscaping designs that impress and ease stress. Homeowners across Brampton and GTA choose artificial grass for backyards, balconies, playrooms, and even putting greens. With its inherent versatility, you can use artificial grass in Brampton virtually any way you like.
Commercial Artificial Grass
Opt for well-kept landscaping with minimal time commitments when you choose artificial turf installation for your commercial space. From retail stores, offices, and even restaurants, artificial grass in Brampton improves curb appeal and customer interest. With Echoing Green, you can take synthetic turf a step further with customization options that allow you to choose a custom color for turf and even imprint your logo for a stylish and fun branding option.
Wholesale Artificial Grass in Brampton
Are you a landscaper, supply store, or designer? Choose high-quality artificial grass in Brampton from Echoing Green. We are an exclusive supplier of European-designed turf, engineered for optimal performance in Canadian conditions. We go beyond just being a luxury artificial grass supplier in Canada. We also offer artificial turf installation services for wholesale customers.
About Artificial Grass from Echoing Green
Choosing the best artificial grass in Brampton has never been easier. With an exclusive European-made product, you can trust that Echoing Green's selection of grasses will outperform others on the market. Our artificial grass is designed with a polyurethane backing and withstands the intense Canadian freeze-thaw cycle. The porous backing and durable fibers enhance resilience to resist rain and everyday use for minimal wear and tear.
Get Years Out of Your Turf. Get Artificial Grass from Echoing Green.