Become a Local Artificial Grass Supplier with Wholesale Turf for Landscape Supply Stores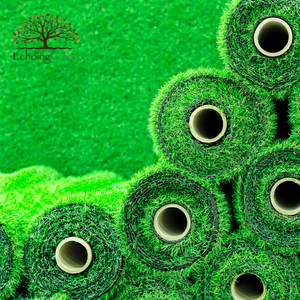 Landscape stores are supply hubs for the most essential and innovative tools and materials. Artificial grass is an exciting landscaping material growing more popular in Canada every passing year. By stocking luxury landscape turf from Echoing Green in your local supply store, you can support landscape companies making their foray into this new market.
When you choose Echoing Green as your wholesale artificial grass supplier for your landscaping store, you will be able to provide your customers with high-quality grass unlike any other in the Canadian market. Our durable grasses will keep your customers happy and coming back for more.
Benefits of Stocking Echoing Green Artificial Grass in Toronto
Versatile Selection: You can mix and match your artificial grass wholesale orders to offer a selection of products. Echo 60, Echo 80, Echo80 Plus, and Echo Supreme are all high-quality European grasses designed to maximize performance for specific applications, from pet turf, residential landscaping or commercial design. Meet your customers' exact needs and surpass their expectations with an exceptional product.
One-Stop-Shop: Echoing Green is more than just a wholesale artificial grass supplier. Give your customers everything they need to streamline artificial grass landscaping jobs, including all the necessary artifical grass installation tools. When you stock equipment and synthetic turf in your store, you'll attract everyone from artificial grass novices and experts.
Online Ordering: Facilitate vendor relationships and skip the back and forth with online ordering. Log into your personalized artificial grass wholesale account and handpick the artificial grass you want for your store. With flexible online ordering from Echoing Green, you can place an order with any device: laptop, mobile phone, even on the go, and get your grasses delivered conveniently to your door.
High-Quality Products: Don't settle for anything less than spectacular. Choose grasses that are proven to perform under a variety of outdoor conditions. Echo 60, Echo 80, Echo 80 Plus, and all of our other grasses are built for the Canadian climate facilitating drainage and enduring the freeze-thaw cycle from season to season without breaking down. UV-protected grass maintains its colour without fading or running, even after hours or days in the sun.
Niche Market: While artificial grass is undoubtedly becoming a favourite in the Canadian landscaping industry, you can get in early with top-notch products. As one of the early wholesale artificial grass suppliers of European turf, you'll build a loyal and reliable customer base that trusts your products and your store for years to come.
Affordable Pricing: When you sign up with Echoing Green for artificial grass wholesale, you can create an account where you will receive affordable artificial grass wholesale pricing and personalized deals for high-quality turf.
Customer Satisfaction: Keep your customers happy with your product offering when you choose Echoing Green, a trusted supplier for artificial grass in Canada. Build strong relationships and enhance your store's reputation with positive reviews and word of mouth.
Contact Echoing Green to Learn More About How Our Product Fits into Your Store.